Bob Harder, This Professional Works Harder for You.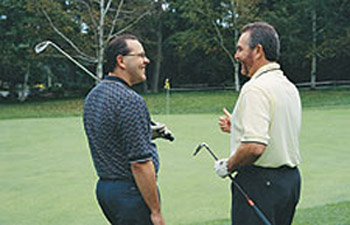 For Bob an exciting round of golf with friends is a fun way to put his competitive spirit to the test
What's in a name?
Those who know Bob Harder best would say everything. That's because this leading Florida businessman has spent his entire life living up to a name that, from the very beginning, almost willed him to go the extra mile. From school to sports to his professional career, Bob has always strived to give his best efforts in everything he undertakes.
A Winning Philosophy
This winning philosophy is readily apparent when he's out on the links of South Florida. This man sees each round of golf a new chance to achieve a personal best. Each hole represents a new challenge that he is only too willing to accept.
And while he thrives on the spirit of competition, he also cherishes the camaraderie and friendships that can be developed over the course of 18 holes. "I always try to do my best, but I also make sure I have fun along the way," says Bob.
Going Above and Beyond
He takes a similar approach to his career in real estate. As one of the premier real estate brokers in Wellington Florida, Bob has earned the reputation as a man who is always going to give his all to help his clients succeed. But just as out on the links, he makes sure that he and his clients enjoy the process along the way. "I have always been one to work hard. With a name like Harder, it's hard not to. Yet I know that if you don't love what you do for a living, you're not being fair to yourself or your clients." And when people first meet Bob, it's clear that he has a passion and enthusiasm for his work.
A Passion to Succeed
Perhaps nothing reflects this energetic approach more than the simple manner in which he greets each day. He starts every morning out by putting on his tie and saying to himself, "Who am I going to meet today? What opportunities are going to present themselves today?" It's a simple exercise, but one that is rooted in his heartfelt belief that you only get out of life what you are willing to put into it. So Bob tackles each day with a positive spirit and a drive to make the most out of life. And for his clients, this kind of energy is simply infectious.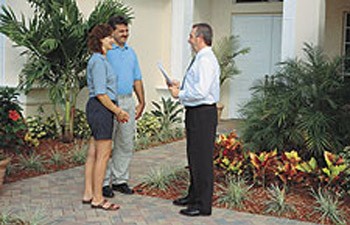 Bob Harder goes the extra mile to help you succeed.
Seize the Opportunities
"You never know what tomorrow may bring, so I try to seize the opportunities life throws my way today," says Bob. "I try to bring this same spirit to my career as well by helping my clients capitalize on the emerging opportunities in the South Florida market." From creative marketing, to innovative advertising to utilizing the very latest computer technology, Bob strives to offer his clients a competitive advantage during the sale or purchase of their homes. This is also where his competitive spirit really comes into play. Bob's combination of market knowledge, insight and experience are hard to beat, and it allows him to achieve the specific results his clients are after.
The One Who Works Harder for You
There is no denying the competition is fierce when it comes to the Wellington real estate market. That's why you need to make sure you enlist a broker who is going to work harder for you and your family. Someone who is willing to go above and beyond the traditional standards of service.
Experience That Counts
That man is Bob Harder. By blending his extensive Wellington real estate market knowledge, technological skills, and competitive spirit, he is Making Real Estate Easier for more and more people. So give Bob a call today and see how simple reaching your real estate goals can be.